Service Locations
Orbital Underground Service Location uses radio electronic technology to locate services without disturbing existing conditions. Either by direct connection or tracing copper rod inserts this is the most cost effective method, as its small size makes it easy to use for long distances and confined spaces and its ability to locate conductors makes it the best method for locating underground services.
Using this technology we are able to locate your common services.
Telstra & Communications Cables
Metal & PVC Pipes
Gas Main & Related Services
Sewer & Storm water Pipes
We are a fully certified Dial-Before-You-Dig Locator
Leak Detection
 Detecting Leaks is a Specialised Field. Leak detection is a fundamental part of the plumbing profession. A clever plumber will outsource the leak detection to allow them to continue with their core business. Orbital Underground Service Location can provide such a specialised service to plumbing contractors.
So why would a plumber choose to use a leak detecting company rather than taking the time trying to locate the leak themselves? The answer to this is simple, a leak detection service is specialised, with the right tools needed to accurately locate the leak. It is cost effective to use leak detection, saving the client both time and money.
Orbital Underground Service Location has state-of-the-art equipment to locate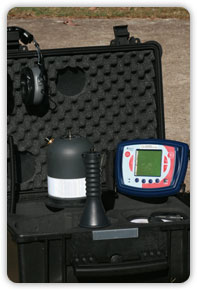 Fault Location
As our Plumber called in the specialist, so would an electrical contractor. From large inner city buildings to the residential household, our power supplies are increasing going underground. This makes the detection of electrical faults significantly important. Power, telecommunications and data are all located using the same method.
Starting with a standard locate we are then able to pinpoint the fault accurately with the use of an "A" frame locator. Cable Fault location can be carried out on:
Telstra cables
Data cables
Low Voltage domestic supplies
22,000Volt High Tension Distribution Lines